Here are several useful tips for a better experience with Wealthy Affiliate.
(1)    Join with the free starter account. The starter account is a useful way to (a) get an overview about Wealthy Affiliate (its features, community, offering /benefit, membership cost), (b) learn the basics of affiliate marketing, (c) pack yourself with capacity to make a firm decision whether affiliate marketing is the way you'd take.
Explore all the available features and lessons for the account. After you have the confidence that affiliate marketing is the way to go, immediately switch to premium member account.
(2)    After you feel that the affiliate business is ready to grow, go with annual membership. It's much cheaper in the long run.
(3)    Build a website immediately. Getting a site ready is important to get the feeling from the visitor's site on how your business presents itself.
(4)    Set an appropriate pace for the lessons. Do not rush the courses. Make sure every session /lesson is understood.
(5)    To make it easier to learn, take a note on significant points of every lesson. The following is a sample of such notes, which is very helpful when tracing back the lessons.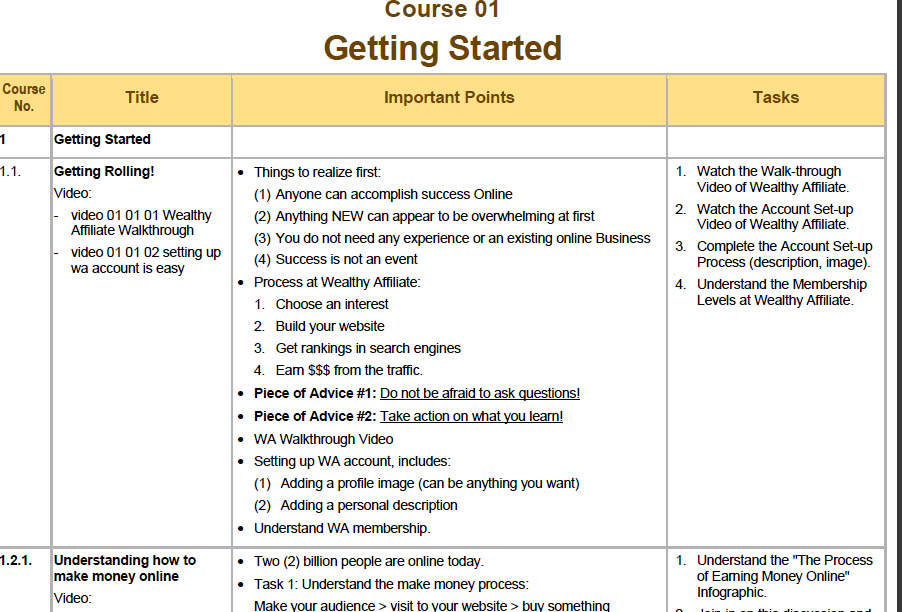 (6)    Don't skip the tasks. It makes sure we understand the lesson and encourages interaction with other members.
(7)    Write regularly. Frequent writing will make it easier in the long run. Write even if the article is a draft not for immediate publishing on the site. Regular writing will also help to find one's favorite writing style. Over time, writing the articles will become natural.
(8)    More tip: For anyone interested in entering a business (whether it's we're marketing, selling, or promoting anything, I strongly suggest to read textbooks on marketing, such as the Principles of Marketing by Kottler. It is a standard marketing textbook on marketing study at colleges. Very useful in learning affiliate marketing business.
At this point, you should have been able to make a firm decision concerning joining Wealthy Affiliate. Good luck with the affiliate marketing experience!
For other tools or software that might be required, visit the support tools page.